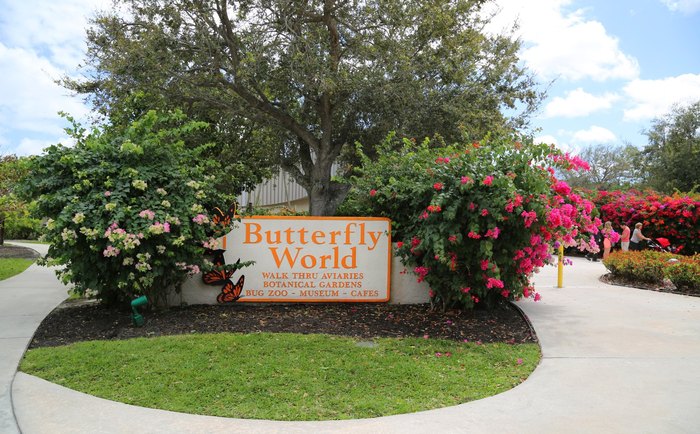 Butterfly World is located in Coconut Creek, Florida's Tradewinds Park. It opened in 1988 and is the world's largest butterfly park, as well as the first of its kind in the Western Hemisphere. Around 20,000 live butterflies are housed in the facility.
Passiflora Society International was founded at Butterfly World to promote research and information sharing about passion flowers, which are a source of food for many butterflies. Butterfly World also contributed to the establishment of the Boender Endangered Species Laboratory at the University of Florida, which is assisting in the reintroduction of the Schaus swallowtail to Southern Florida.
History of Butterfly World
Ronald Boender began raising butterflies and their food plants in his Florida home after retiring from a career as an electrical engineer. He founded MetaScience in 1984 to supply farmed butterflies to zoos and universities. He decided to open his own facility in Florida after visiting England in 1985 and meeting Clive Farrell (founder and owner of the London Butterfly House). Boender and Ferrell formed a partnership and began planning the facility, which was to be both a public attraction and a research facility with a butterfly farm.
Butterfly World first opened its doors on March 28, 1988. It has since grown to include the United States' largest free-flight hummingbird aviary, a Lorikeet Encounter, and an aviculture research center. For more information about C.B. Smith Park, read more here.
Business Information
Located in: Tradewinds Park & Stables
Address: 3600 W Sample Rd, Coconut Creek, FL 33073, United States
Phone: +1 954-977-4400
Exhibits: Lorikeet Encounter, Bug Zoo, Paradise Adventure Aviary, MORE
Opened: March 28, 1988
Area: 4 ha
No. of animals: ~20,000 (butterflies)